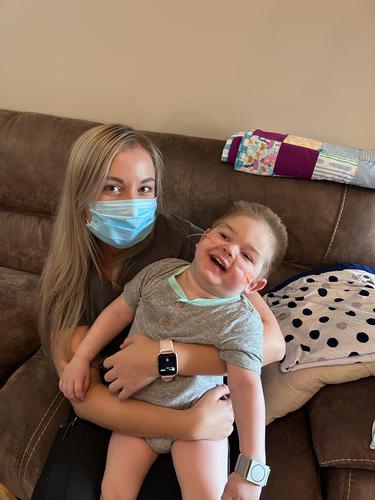 Tayn was born prematurely and spent 110 days in the NICU. He is a complex little guy with a long list of diagnoses. Despite the challenges he faces, Tayn is unstoppable. "Tayn is a miracle baby," his mom says. "We can't imagine life without him."
Tayn began receiving private duty nursing care in March of last year. His mom, who is a nurse herself, didn't know home healthcare was an option for their family when they first brought him home. Unfortunately, even after they learned Tayn qualified for private duty nursing, they couldn't find a nurse in their area to work with him.
Tayn went to a typical daycare after coming home from the hospital. One day he had a seizure while there, and an ambulance was called. It was a scary time for his family, who just wanted to get Tayn the care he needed. When they finally found nurses who could care for Tayn in their home, everything changed.
"It's so nice to have the option to go back to work and know he's taken care of," Tayn's mom shares. "It's a good feeling to know that he's getting the care he needs. His nurses have become part of our family."
Aveanna Nurse Mahlia is currently caring for Tayn. She brings the exceptional care he needs right to his home. And the two have built an amazing bond. "Tayn took to Mahlia immediately," his mom recalls. "She's great with him. She is on the floor with him doing therapy a lot. It's just good to know he's safe, healthy, and thriving."
As both a nurse and the parent of a medically fragile child, Tayn's mom encourages other nurses to give one-on-one private duty nursing a try so that more children like hers can get the care they need. "Working in the home, you'll learn a lot, develop great autonomy, and create amazing relationships with patient families," she explains. "All with thorough training and constant support from the Aveanna team."
If you're a nurse, you can make an incredible impact on a family like Tayn's through one-on-one private duty nursing. Visit jobs.aveanna.com today to learn more about our opportunities in your area!