Board of Directors For Aveanna Healthcare
Our board of directors is comprised of leaders with decades of experience in the healthcare industry. These men and women bring combined talents of business acumen, clinical work, health services management, adult and pediatric home care experience, healthcare investing and much more into their work for Aveanna Healthcare. The board of directors helps define priorities and improve services as we pursue our goal of revolutionizing how pediatric healthcare is delivered. Learn about the background of each seasoned board member by reading their profiles below:
Rod Windley
Chairman of the Board
Rod Windley has enjoyed a long and distinguished career in the healthcare industry. His story is one of building companies and fighting to bring care to some of the most vulnerable and medically fragile patients in the world.
Mr. Windley currently serves as Chairman of the Board of Aveanna Healthcare. Prior to the formation of Aveanna in 2017, Mr. Windley served as Executive Chairman of PSA Healthcare.
Mr. Windley's career started with Ernst & Young, working in their healthcare group, where he remained until moving to BlueCross of Florida. From there, he went on to create R.D. Windley and Associates, a healthcare consulting firm working with hospitals and homecare programs throughout the United States. In the 1980s, he was co-founder of Central Health Services, where he served as President until it was eventually sold to Columbia HCA. At the time, Central Health Services was one of the largest home health providers in the United States, with 29 locations in Georgia, Florida, Alabama, and Tennessee.
In 1989, Mr. Windley founded The Healthfield Group, where he served as Chairman and Chief Executive Officer. Healthfield grew its revenues to become a dominant southeastern company until it eventually merged with Gentiva Health Services (GTIV) in 2009, creating the largest homecare company in America. Mr. Windley served as Vice Chairman and later Executive Chairman of Gentiva. Under his leadership, the combined companies grew to more than $2 billion in annual revenue. In early 2015, he helped guide Gentiva through its merger with Kindred Healthcare in what would become the largest sale of homecare assets in the nation's history.
Mr. Windley is a founding member of the National Association for Home Care and Hospice (NAHC), serving on the board for two terms and then rejoining the board in 2017 for an additional term. During this time, he also served on the Finance, Executive, and Strategic Planning Committees and chaired the association's PAC Committee. With NAHC, he pushed for the acquisition of the former home of the great civil rights leader Frederick Douglass in order to create the Caring Hall of Fame and the Caring Institute, on which he continues to serve on the board today.
Mr. Windley has supported numerous charities, including NAHC's Foundation for Hospice and Homecare, the March of Dimes, the Crohn's and Colitis Foundation of America, and the T.J. Martell Foundation. He also created the Foundation for Medically Fragile Children, which today is called FOCUS + Fragile Kids.
Mr. Windley has been recognized as the recipient of many awards, and in 2012 he was inducted into the Home Care and Hospice Hall of Fame alongside such notables as Mother Teresa, President Bill Clinton, Congressman Claude Pepper, and Senators Frank E. Moss, Susan Collins, and Ted Kennedy. He is a graduate of the University of West Florida with degrees in finance and accounting.
Victor F. Ganzi
Audit Committee Chair, Independent Director
Victor Ganzi's career spans more than 40 years and includes experience as a general counsel, chief financial officer, and chief executive officer. Educated in both accounting and law, he has extensive legal, accounting and business management experience.
Mr. Ganzi served as president and chief executive officer of the Hearst Corporation, a private diversified communications company, from 2002 to 2008. During his tenure with the company, revenues surpassed $8 billion. He also spearheaded the construction of a new, environmentally friendly, Gold LEED-certified headquarters for the company in New York City.
Prior to joining Hearst, Mr. Ganzi was the managing partner at Rogers & Wells, now a part of international law firm Clifford Chance, where he was responsible for day-to-day operations. Before joining Rogers & Wells, he practiced as a certified public accountant, specializing in taxation, at a Big Four accounting firm.
Over his career, Mr. Ganzi has chaired and served on more than 25 public, private and nonprofit boards. He previously served as a director for companies such as Willis Towers Watson, Wyeth, ESPN, Hearst - Argyle Television and Gentiva Health Services. He currently serves as Chairman Emeritus of the PGA Tour, which operates the men's professional golf tour in the United States, and on the boards of Foster + Partners, the international architectural firm based in London, and the Whitney Museum of American Art.
Mr. Ganzi graduated summa cum laude from Fordham University with a Bachelor of Science degree in accounting, received a Juris Doctor degree from Harvard Law School and holds an L.L.M. in taxation from New York University.
Christopher R. Gordon
As the leader of Bain Capital's global healthcare team, Christopher Gordon brings significant experience in the healthcare business arena to the Aveanna Board of Directors. A managing director at Bain Capital, he oversees private equity investing with a focus on the healthcare sector.
Since joining Bain in 1997 as a consultant with Bain & Company, Mr. Gordon has served on the boards of directors for several healthcare companies in which Bain Capital has invested. Included in his current and former directorships are Grupo Notre Dame Intermedica, HCA Healthcare, Quintiles Transnational Holdings, Acadia Healthcare Company, Air Medical, Beacon Health Options, QuVa Pharma, Waystar, Surgery Partners, Stada, CRC Health Corporation, Hospital Corporation of America, Navicure, Physio Control, and Surgery Partners, among others.
Mr. Gordon currently serves on the boards of directors of Cerevel Therapeutics Holdings, Inc., InnovaCare Health, Kestra Medical Technologies, Inc., and U.S. Renal Care, Inc. He is also a founding director of the Healthcare Private Equity Association, a not-for-profit trade group whose mission is to support the reputation, knowledge and relationships of the healthcare private equity community. Mr. Gordon volunteers his time and support to a variety of charitable organizations and currently serves on the board of directors of Tenacity, Inc., Boston Medical Center Health Plan and Dana-Farber Cancer Institute Board of Trustees.
Mr. Gordon graduated magna cum laude from Harvard College with a Bachelor of Arts in Economics and holds a Master of Business Administration degree from the Harvard Business School, where he was a Baker Scholar.
Devin O'Reilly
Compensation Committee Chair
Devin O'Reilly brings a wealth of experience in the healthcare industry to the board. Mr. O'Reilly is a Partner at Bain Capital Private Equity where he is Head of Healthcare investments in North America. Mr. O'Reilly previously spent five years in the company's London office, where he led the European private equity healthcare team.
Prior to joining Bain Capital in 2005, he spent several years as a consultant for Bain & Company where he focused on healthcare and private equity industry clients. Previously, he also held management positions in the healthcare and software industries.
Mr. O'Reilly serves on the boards of directors of several Bain Capital portfolio companies including athenahealth, LeanTaas, PartsSource, Surgery Partners, Zelis, and several historical investments. He is also a member of the investment committee of Bain Capital's Double Impact Fund which is focused on social impact investing. Mr. O'Reilly is currently a trustee of Carroll School, an elementary and middle school that serves children with language-based learning differences.
Mr. O'Reilly received a Master of Business Administration degree from The Wharton School at the University of Pennsylvania and graduated with a Bachelor of Arts degree from Princeton University.
Sheldon M. Retchin, M.D., M.S.P.H.
Clinical and Compliance Committee Chair, Independent Director
Dr. Sheldon Retchin is a board-certified internist, and professor of health services management and policy in the College of Public Health and professor of medicine in the College of Medicine at The Ohio State University (OSU). His career includes extensive experience as an executive in major medical centers and appointments to several national panels related to Medicaid and Medicare programs, managed care, the costs of care, and the physician workforce. He has also added qualifications in geriatric medicine and has published nearly 100 articles, papers, monographs and book chapters on the costs, quality and outcomes of care.
Dr. Retchin served as both executive vice president for health sciences at OSU and chief executive officer of Wexner Medical Center on the OSU campus. Prior to joining the faculty at OSU, Dr. Retchin was senior vice president for health sciences at Virginia Commonwealth University (VCU) and chief executive officer of the VCU Health System. While at VCU, he was also president of the Virginia Premier Health Plan, a Medicaid HMO serving approximately 225,000 members throughout the state.
In 2015, Dr. Retchin was appointed by the U.S. Comptroller General as one of 17 Commissioners to the Medicaid and Chip Payment and Access Commission (MACPAC). This commission provides policy and data analysis and makes recommendations to Congress, the Secretary of Health and Human Services, and the states on matters affecting Medicaid and the Children's Health Insurance Program.
From 2009 until 2015, Dr. Retchin served on the Board of Directors of Gentiva Health Services.
Steve E. Rodgers
Independent Director
Steve Rodgers brings to the board more than 23 years of experience in healthcare investing. Steve is currently a Managing Director of Morgan Stanley and a Partner of Morgan Stanley Capital Partners (MSCP).
Prior to joining Morgan Stanley, Mr. Rodgers served as Senior Managing Director at J.H. Whitney Capital Partners. He was also a member of the Investment Committee and led the firm's Healthcare Investing activities. Mr. Rodgers has also served as a Managing Partner at the Riverside Company, a global private equity firm, and a Financial Analyst with Alex Brown & Sons.
Erica Schwartz, MD, JD, MPH
Independent Director
Erica Schwartz, MD, JD, MPH, brings more than 25 years of distinguished service to the nation's health policies, programs, and administration. Most recently, she served as the Deputy Surgeon General for the Department of Health and Human Services, where she led the country's public health deployment in response to the COVID-19 pandemic.
Prior to her role as the Deputy Surgeon General, Dr. Schwartz spent 24 years in uniformed service, during which time she was promoted through the ranks to Rear Admiral of the U.S. Coast Guard, where she served as the Chief Medical Officer and Director of Health, Safety, and Work Life from 2015 to 2019. In that capacity, she was responsible for the Coast Guard's health care system. She also oversaw the Coast Guard's childcare, substance abuse prevention, suicide prevention, special needs, family advocacy, and sexual assault prevention and response programs, among others.
Dr. Schwartz served as the U.S. Coast Guard's Chief of Health Services from 2013 to 2015 and its Preventive Medicine Chief from 2005 to 2013, where she instituted critical inter- and intra-agency programs, including Navy Safe Harbor, disease surveillance, deployment health, and the chemical, biological, and radiological medical countermeasures programs. During this time, she also served as the Coast Guard's principal expert on the influenza pandemic and developed health protection guidance for armed forces deployments acting as part of numerous contingency operations, such as Hurricanes Katrina and Rita, the 2009 H1N1 pandemic, the 2010 Haiti earthquake, and the West Africa Ebola outbreak.
Dr. Schwartz is trained and board-certified in Preventive Medicine. She received a Bachelor's Degree in Biomedical Engineering from Brown University, an M.D. from the Brown University School of Medicine, a Master's of Public Health degree with a dual concentration in health services administration and occupational and environmental medicine from the Uniformed Services University of the Health Sciences, and a J.D. from the University of Maryland School of Law.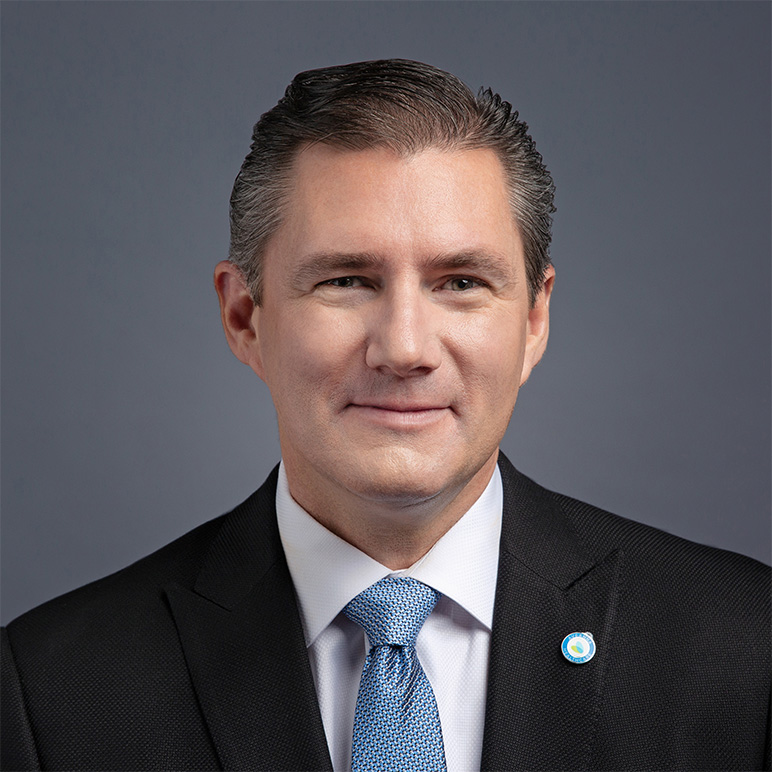 Jeff Shaner
Jeff Shaner was appointed President and Chief Executive Officer of Aveanna Healthcare in January of 2023. He also serves on the Board of Directors. Mr. Shaner is responsible for overseeing the company's three operating divisions: private duty services, medical solutions, and home health and hospice. Mr. Shaner has been integral to the formation of Aveanna Healthcare and its strategy to become a leading national provider of homecare.
Mr. Shaner brings broad experience to post-acute healthcare, with more than 20 years of service in key leadership positions. He began his career in the healthcare business in 2000, leading the operations at Total Care, Inc. He joined The Healthfield Group following its acquisition of Total Care and was later tapped to lead its home health division. He led the integration of eight acquired companies into Healthfield, doubling the size of the company until its eventual sale to Gentiva Health Services, Inc. in 2006.
In the years following Healthfield's merger with Gentiva, Mr. Shaner served as Gentiva's Regional Vice President of the Southeast, the Eastern Division President of the Home Health division, the President of the Hospice division, and Senior Vice President of Operations for the entire company. In this period, Mr. Shaner led the billion-dollar integration of Odyssey Hospice, Inc. and the creation of Gentiva's Hospice business unit.
After the sale of Gentiva to Kindred Healthcare in February 2015, Mr. Shaner began providing consulting services to Linden Capital Partners and Blue Wolf Capital concerning multiple post-acute investment opportunities.
Mr. Shaner joined PSA Healthcare in 2015 as Chief Operating Officer and was instrumental in the formation of Aveanna Healthcare in 2017.
He received a Bachelor of Arts degree in business finance and economics from the University of Pittsburgh.
Robert M. Williams, Jr.
As Senior Managing Director at J.H. Whitney Capital Partners and Investment Committee member, Robert Williams has an extensive background in identifying quality companies in which to invest, and influencing their growth and development. During his 17 years with J.H. Whitney, he has been part of the decision-making team that invested Whitney V, VI and VII.
Prior to joining J.H. Whitney, Mr. Williams was a Partner at Duff & Phelps, an advisory firm specializing in valuation, corporate finance, disputes and investigations, compliance and regulatory matters, and other governance-related issues. Before joining Duff & Phelps, he was with the Financial Advisory Services Group at CIBC.
Mr. Williams has served on many corporate boards during his career, including most recently, Accupac, Inc., CJ Foods, Steven Manufacturing, Autosplice, Aarrowcast Holdings, and EMC Holdings.
Mr. Williams is a graduate of Bucknell University and holds a Master of Business Administration degree from Columbia University. He has also completed the credit training program at The Bank of New York.
Richard C. Zoretic
Independent Director
Richard Zoretic has more than 30 years' experience in the healthcare business field, most recently retiring as executive vice president of WellPoint and president of the company's Government Business Division. In this position, he was responsible for a business structure generating more than $30 billion in annual revenue, an amount that was approximately half of the entire company's annual revenue.
Mr. Zoretic joined WellPoint through its acquisition of Amerigroup Corporation, where he served as chief operating officer with responsibility for all company operations, including medical management programs, local health plans, information technology, customer service operations, healthcare analytics and provider networks. During the five years he served as COO, Amerigroup grew from 1.3 million to 2.7 million members and annual revenue grew from $2.8 billion to $8.7 billion.
Earlier in his career, Mr. Zoretic held a series of positions with the Group Life and Health operations of MetLife, served in senior leadership positions at UnitedHealth Group, and was as a management consultant in Deloitte Consulting's healthcare practice.
Mr. Zoretic serves on the boards of HealthSun in Miami, Fla., and Landmark Health in Huntington Beach, Calif. He previously served as chairman of the Board of Directors of Eastern Virginia Medical School Health Services, a multi-specialty medical practice associated with Eastern Virginia Medical School, and as a member of the school's Board of Visitors. He has also served on the boards of Families of Autistic Children of Tidewater (FACT), Cape Henry Collegiate School in Virginia Beach, and the Hampton Roads Business Roundtable.
Mr. Zoretic holds a degree in finance from Pennsylvania State University.