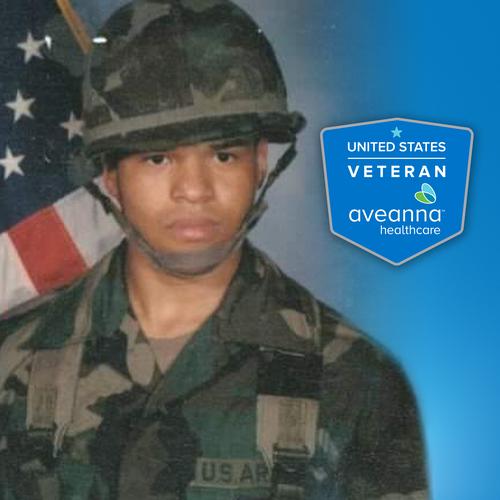 Clinical Supervisor Bill served in the Pennsylvania Army National Guard for 6 years. During that time, he learned the importance of servant leadership, a lesson he carries on today in his work at Aveanna. This Friday, we hope you'll join us in celebrating veterans like Bill who lead by serving.
Bill felt called to serve his country and took the step to enlist with support from his family. "I was motivated to join the National Guard by a sense of patriotism supported by family legacy," Bill recalls. "My brother, father, and uncles served as well. During my time in the military, I learned the importance of Service, the value of Leadership, and the necessity of Servant Leadership."
Bill carried those lessons with him back to civilian life when he became a veteran. "Ever since my enlistment," Bill explains, "I have gravitated to positions where I could apply the military lessons of Servant Leadership in my work. I began my journey with Aveanna in 2008, when I joined Firstaff Nursing as a field nurse. The staff continued to make me feel welcome and relevant as the company evolved. This year, I was honored with a promotion that allows me to combine my talents and experience like never before!"
In his new position as a Clinical Supervisor, Bill leads a team of compassionate caregivers and supports patients and families with the principles he learned in the military. "What I love most about my job is that I get to introduce new hires and new clients to the company," Bill shares. "I get to inspire the young and inexperienced to achievement and the elderly to improved health outcomes. It is an honor for me to give them all an initial glimpse of the healthcare revolution that is Aveanna!"
We are honored to have Bill on the Aveanna team, helping us revolutionize the way homecare is delivered and showing us what it means to lead through service. Happy Veterans Day, Bill!
If you're a veteran interested in joining a team where your unique skills and experience will be valued and celebrated, join our team today.