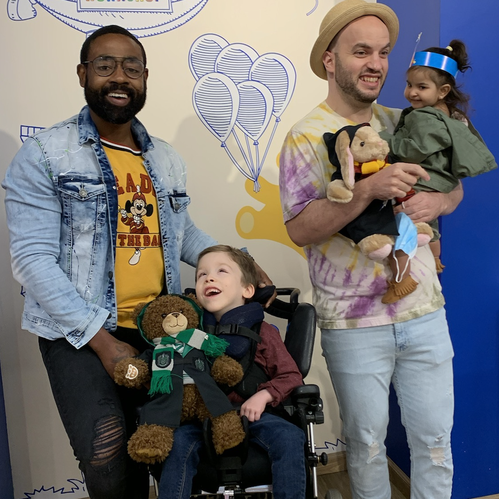 Jeff and Brian love being fathers and are deeply passionate about the family they have built together with their children, Carter and Gabriana. Like any parenting journey, theirs has its challenges. But these dads enjoy every step along the way.
Carter and Gabby, who are six and two, both have significant support needs. Jeff and Brian are dedicated to providing that support, along with all the love and attention they can possibly shower on their children. "My husband and I are very involved with the kids and their care," Jeff shares. "For me, fatherhood means being there for my kids for everything. The hardest part is when we have to be away from them."
When Jeff and Brian are at work, they make sure they have the right people caring for Carter and Gabby. "It makes all the difference when you find nurses who you know truly care about your kids in the same way you do," Jeff says, "and who are respectful of how you choose to live and parent."
Carter and Gabby's Aveanna nurses help Jeff and Brian be the fathers they want to be – patient, supportive, and always there for their kids. When they have the help they need, Jeff and Brian can focus on just being parents and creating memories with Carter and Gabby.
"We began this journey with a lot of respect for parenting," Jeff recalls. "We wanted to be fathers, and we look on it as a blessing. Sometimes people see our family and say how it must be so hard. What they don't realize is how much fun we have every day. We love being together as a family, and we're excited to have a lifetime of adventures with our kids."