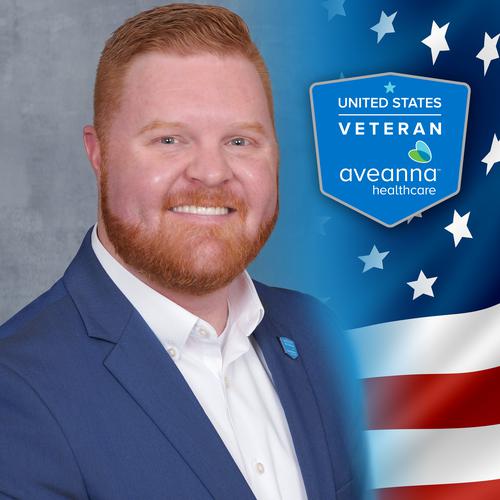 Veterans Day is extremely important to us here at Aveanna. It's a time to honor and celebrate all veterans and particularly those members of the Aveanna family who served and sacrificed in various branches of the armed forces. Today we're honored to recognize Peyton, National Military Health Specialist, as he reflects on his time in the Air Force and his experiences continuing his mission of service as an Aveanna veteran.
What led you to join the military?
It was something that I always wanted to do and that I felt drawn towards. Some of it had to do with the discipline, the structure, the perks of travel – things like that. I grew up in a military household. My stepfather and grandfather were both in the Navy. I have multiple other family members who served. At the end of the day, I just kept feeling like I should be doing something more important, something bigger than myself. It didn't matter where I was or what I was doing, I just constantly felt like there was a void. I knew I was here to serve a higher purpose. It's hard to explain, but I just felt called to serve. I believe everyone who has served has felt that in some capacity. We're called to do something greater and be part of something bigger than ourselves.
What was your time in the military like?
I was in the Air Force for 12 years. I originally got a medical job because I was going to school for kinesiology to become a physical therapist. But certain jobs have longer waiting periods. I was going to have to wait a year to join in the PT career field, and I was ready to go right then. I joined in an open mechanical position because I felt like it was the right time to move forward.
I worked on weapons systems for the majority of my time in the Air Force and moved around quite a bit. I was stationed in Idaho, Texas, Korea, Iraq, and Afghanistan. My last two years I took a special duty assignment and did Air Force honor guard. I conducted and scheduled military funeral services working in the national cemetery. That was my favorite part of my military service – being able to provide the services to our veterans and fallen soldiers, airmen, sailors, and marines. Providing that honor service and presenting the next of kin with a flag was an emotional experience for me.
I worked with a lot of funeral directors and other civilians then. Working with the non-military population for a couple of years was super rewarding. When you do things like that, you get to see how your actions and choices and service in the military affect those outside of the military and how appreciative they are.
When my grandfather, who was a veteran, passed away, I was lucky enough and blessed enough to train two of my cousins (one in the Navy and the other in the Army), and we were able to provide his military honors at the funeral. To have his grandchildren be able to do all of that for him and hand that flag to my grandmother – it was so emotional. I would never do it any different. I loved having that moment with my family.
What are some lessons you learned during your time in the Air Force?
The big thing in the military is the comradery. I was able to get out of small community I grew up in in Texas and work with and build relationships with men and women I never would have been friends with otherwise. It helped me get rid of preconceived notions of who I thought someone was and really understand who they are as a person and what drives them. I take that comradery and level of understanding and apply it to everything I do. Listening to people, learning their strengths and weaknesses, getting to know them as a person. Being open to the differences and receptive of that person so they feel heard. That will foster good relationships and teamwork. Along with that, I learned the important lesson of doing what's best for the person next to you. If you're constantly blessing those around you, you will be blessed in return. It comes full circle.
What was the transition from active-duty service member to veteran like for you?
The transition was not easy. When you're in that long, you're still a part of the world but you're a different part of the world than civilians. There are so many things that we do daily and take for granted. My first deployment was very eye-opening and brought a whole new appreciation for the blessings that we have living in this country.
The transition was difficult in the sense of reintegrating back into civilian society, but it was fun from the aspect of getting my freedoms back. When you join the military, you lose a lot of your freedoms so that others can have them. Doing what you want to do, going where you want to go, dressing how you want to dress, saying what you want to say – it's all very restricted in the military. When you're in for as long as I was, you get accustomed to that and don't know any different.
I brought so many principles and lessons with me when I left the military. Attention to detail, discipline, work ethic, team integrity. Taking those lessons and habits and being able to apply those to your life in the civilian sector is paramount. If you can do that, you will be super successful.
How has Aveanna supported you as a veteran?
Becoming a veteran wasn't easy at first. Everyone's a little different in how they approach it. I knew that I had to find a job that honored those same principles I learned in service. I also wanted a job that I could turn into a career and keep working and applying that work ethic, discipline, and attention to detail. When I came upon Aveanna, it was pretty clear that it was the place for me.
It was apparent early on the influence of veterans in leadership and the emphasis on hiring veterans. There are leaders here who are veterans themselves and can appreciate the sacrifices we make and what it takes to integrate back into civilian society. I was very fortunate to find Aveanna and continue to build a career.
How are you continuing your mission of service as part of the Aveanna team?
The things we do and the people we help are why I stick around. I believe in what we do. I believe in this company.
Integrity first. Service before self. Excellence in all we do. Those are the core values of the Air Force, and I continue to live them every day as a veteran. Those principles line up with our core values here at Aveanna. That's why I love working for this company and specifically doing what I do. I'm proud to support military families as Aveanna's National Military Health Specialist. Whether I'm working with active military families or on the VA side, it has allowed me to continue to serve those who serve us. It's that mission of service that drives me.
We work with families who have kids or loved ones with special needs. It's extremely difficult for them to find the care and services they need. And when you throw in the military component as well, you're magnifying that difficulty by 10. Parents may be deployed or on temporary duty. Just when you find the right specialists and therapists and nurses and have a good regimen going – all of a sudden you have to uproot your family and move across the country with a special needs child. These families are basically moving into the unknown, not knowing what kinds of resources they'll have when they get there.
That's one of the things I pride myself on and us as a company. When a service member makes a permanent change of station and their family goes to a new duty station, nine times out of ten their care with Aveanna can continue. We get to go with you and already have you set up and ready to go when you get there. To be able to move with families like that is awesome. We support families from California to Texas to Florida to Virginia – all the same family, and we get to watch their progression. We're there supporting them and get to see the growth for their career, their family, and their kids through all the transitions. It's awesome. I have the greatest job. It's so much fun, and I absolutely love it.
What's one reminder you would like to give this Veterans Day?
We never really know what we're taking for granted until it's gone. On Veterans Day and every day, be mindful of and thankful for the men and women willing to sign that dotted line without knowing what's coming next. Be mindful of and thankful for the blessings you have because of the people who are willing to serve.
If you're a veteran looking to continue your mission of service, join our team today.