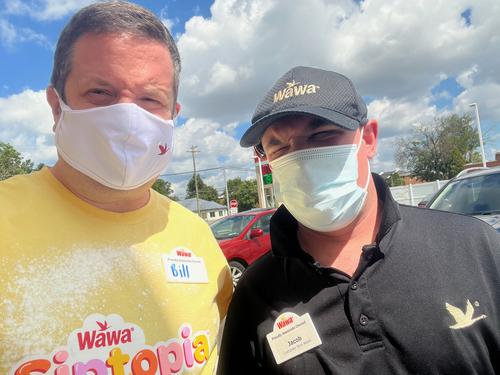 It's Direct Support Professionals Recognition Week! We are so excited to honor all of Aveanna's DSPs this week, and to highlight a few who go above and beyond for the individuals they serve. Today we'd like to introduce Jake and DSP Bill. For these two, every day together is a reason to celebrate.
"I have worked as a Therapeutic Support Staff for many years," Bill says. "The children I have supported over time aged out of the programs I was employed with, so I decided to explore more options in the adult world of supportive services. I was referred to Aveanna Healthcare by a coworker. I started out as an ABA support staff and transitioned to the ODP ID/DD Program over time.
"I enjoy helping people immensely! Through my journey with Aveanna, I found that I can identify better with adults in need of support. I became a Direct Support Professional working full time with intellectually disabled adults. I work with Jake consistently, and we continue to achieve new goals and understandings each day. From supporting him in job skills to encouraging healthy spending habits, it all starts with gaining the trust of our individuals. Having that trust and becoming a positive role model, or somewhat of a 'big brother' helps build a good relationship with mutual respect. I learn from him every day, and he learns from me."
Thank you for sharing, Bill. Your mutual respect and learning are inspiring to us all. Happy DSP Recognition Week!