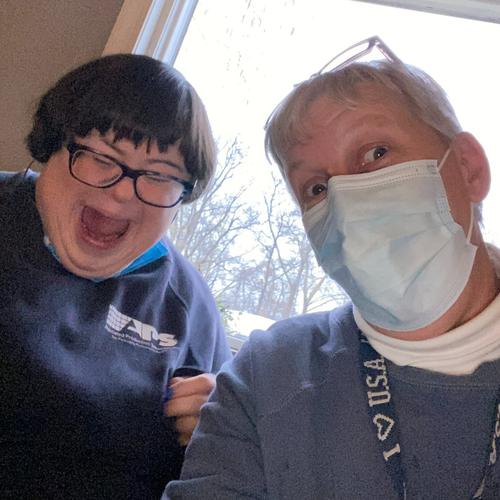 As we continue our celebration of Direct Support Professionals Recognition Week, we're excited to introduce Megan and DSP Susan!
"I started working with Aveanna 3 years ago after leaving a full-time job as a receptionist in an office," Susan recalls. "I worked 1 day a week for 5 years as a DSP before deciding to share life every day with some of the most incredible people in the world full time. I enjoy working with my clients who have grown into what I consider best friend relationships. Spending a few hours a week seeing the world from their point of view is incredible. Seeing what is important and meaningful to them and especially their families.
"We learn tech together among other things, like cooking and exercise. Time means nothing because they think they have all the time in the world. Nothing can be skipped or rushed. Saturdays with my Meg are girlfriend time – we go shopping for clothes often. Just following her around a store where the world is her own is priceless. Giving these individuals the freedom to do what they want to do is something we take for granted.
"On Monday nights, Meg's bedtime routine switches to a different relationship. We work together every week folding wash, gathering bedtime clothes, showering, and drying hair in a timely fashion. Because of her diagnosis, Meg likes to repeat these tasks numerous times. I encourage her to stay focused and if she gets done in time, we can do something fun each Monday night. I truly value and cherish the time I spend with the individuals I work with."
Thank you for sharing your heart with us, Susan! We're so happy to celebrate your passion and care this DSP Recognition Week.