In honor of Mental Health Awareness Month, we are excited to share Ebony's journey. Ebony Key is an Instructional Designer, mental health advocate, and leader of Aveanna's DisAbility, Chronic Illness and Mental Illness employee resource group. She has been an Aveanna team member for five and a half years, encouraging a culture of inclusion and mental wellness in all her various roles over the years.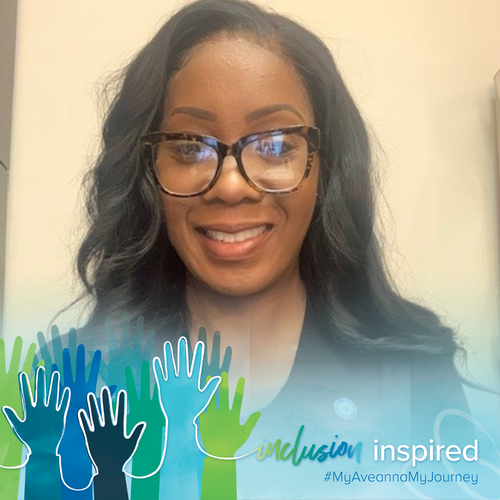 At the age of 16, I was selected to speak in front of 12,000 people to give a personal experience about teenage challenges. This had such a profound effect on me. I knew at that age that I would be able to continue to conquer my fears of public speaking. I remember this experience each time I am required to speak on calls and/or meetings with Aveanna.
I started with Aveanna back in 2016. I have held 4 positions through my journey with the company. Each position has helped me to grow both personally and professionally. I have learned to trust my voice, trust the process of each situation, and strive for progress rather than perfection. Had I not gone through each position, I would not understand how important inclusion really is.
Today, I celebrate being a spiritually grounded woman, a mother to a brave and spunky 11-year-old, and new Instructional Designer with our Learning and Development team (which is my dream position). I strive to keep inclusion at the center of everything I do.
Inclusion to me means having a close-knit community and involving a variety of personalities and backgrounds to that community. It's important because I sincerely believe that everyone needs to feel and KNOW that they belong amongst people that love and respect them. I love seeing this at Aveanna!
I aim to consistently maintain the camaraderie with new and current employees. I love including and embracing each person on an individual level. Aveanna allows the space to do this by the way we embody acceptance.
Keeping up with my mental hygiene can present itself as a challenge at times. COVID has triggered various mental hurdles for us all. What I love about Aveanna is the available and free space to be mentally and emotionally supported. Being the leader of our DisAbility, Chronic Illness and Mental Illness ERG has truly been a breath of fresh air and I consider it a safe space.
There are a couple of women who have inspired my journey here at Aveanna. Ingrid Emmons, the VP of DEI is one of those women. Since first meeting Ingrid, she has always inspired me. She has taught me: 1) Accept who I am and be proud of my accomplishments. 2) Be realistic in what I can/cannot handle. 3) Bring my whole self to work each day. 4) Smile more and keep things light in my life!
Another person at Aveanna who inspires me is Jacque Holland, AVP of Clinical Education. She has taught me so much about dedication, compassion, and leadership. I know I have so much still to learn from her as both a mother and a leader. Having supportive mentors you can depend on is another important aspect of mental hygiene.
May is Mental Health Awareness Month, and I encourage each individual to embrace themselves and never allow stigmas to stop you from tending to your mental health. I have learned this and make my mental hygiene a priority.