"You don't have to be able to talk to speak. Isaiah has a lot to say, and he speaks volumes."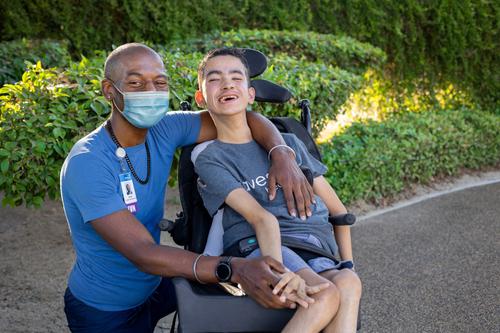 Isaiah lives with cerebral palsy and is a pro at turning "can't" into "can." He doesn't let anything or anyone limit what he can do. He can't verbalize, but he has no trouble making himself heard with his speech device. And according to Nurse Kacee, Isaiah has a lot to say.
Kacee joined Isaiah's care team last November, and the two quickly bonded. Kacee is a musician in addition to his nursing career. It wasn't long before he introduced Isaiah to music therapy. What started out as a fun therapeutic activity turned into something truly special. Rapping gave Isaiah a new outlet to express himself and connect.
Isaiah is known as "the boss" around his house, so Isaiah (a.k.a. Lil' Ice Bear) and Nurse Kacee (a.k.a. Georone) called their first song together I Am the Boss. "With our first song, we were just joking around," Isaiah recalls. "Then I said, 'Let's see where this goes.'"
Isaiah has recorded six songs so far (including one dedicated to his mom for Mother's Day). And he's not stopping anytime soon. Nurse Kacee helped him find a great way to express his creativity and let his voice be heard.
Kacee's care helps Isaiah stay healthy and thrive at home and makes it possible for him to follow his dreams and work toward new goals. Kacee has made an incredible, life-changing impact on Isaiah. "Kacee is my brother," Isaiah asserts. And Kacee feels the same way about his patient.
"We're definitely bros," Kacee agrees. "I feel like this was meant to happen. I was meant to be Isaiah's nurse. I've never met anyone like him before. He's changed me, and I'm honored to be part of his story."