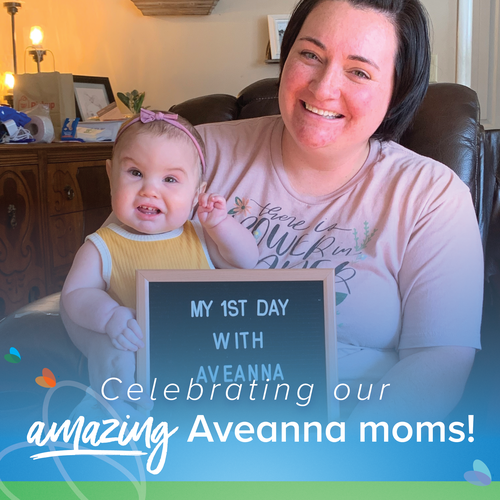 Mollie's motherhood journey has not been an easy one. At 20 weeks gestation, she learned her pregnancy was high-risk. Her daughter Ivy was delivered by emergency c-section at 36 weeks and taken straight to the NICU. After multiple surgeries, procedures, and hospital stays, Ivy's homecoming brought new challenges.
"Initially, I didn't feel like Ivy's mom when she came home from the hospital," Mollie admits. "I felt like her nurse. And it was easier that way. I was afraid to attach to her. What if we lost her? Could I survive that if I really let myself be her mom? I had to work through that in therapy to be able to really feel like her mom."
Even after embracing her role as Ivy's mom, Mollie struggled to balance providing nursing care for her baby. She fought for private duty nursing services for Ivy, but no homecare nurses were available to join Ivy's team. That's when Mollie decided to officially join Ivy's Aveanna nursing team.
"I was worried about becoming her nurse myself," Mollie recalls. "I talked to my husband about how it would look for me to be her nurse and then switch back to being her mom after work. The care never stops. I've had to learn to let others help after work so that I can get a break. It's a juggle, and I'm still learning."
With therapy, help from her husband, and support for their Aveanna team, Mollie is learning how to navigate the many demands of motherhood and nursing. Her path was unexpected, but it has empowered Mollie to provide the best care to her daughter and to celebrate Ivy's journey.
"We take each day step by step," Mollie says. "I wish there was a playbook, but there isn't. I'm learning to do things in Ivy's time on her journey. You have to let your child write their own story, even if it's not the story you were expecting. One day you'll look up and they'll be doing things you never thought they would. Each new day is a new walk, and our feet keep moving somehow."
Happy Mother's Day to Mollie and to everyone walking an unexpected road in motherhood and pushing through impossible obstacles to get their children everything they need to thrive.
---
If you're a medically fragile mom looking for support on your journey, learn more about our private duty nursing services at https://www.aveanna.com/private-duty/pediatric-and-adult-private-duty-nursing.html