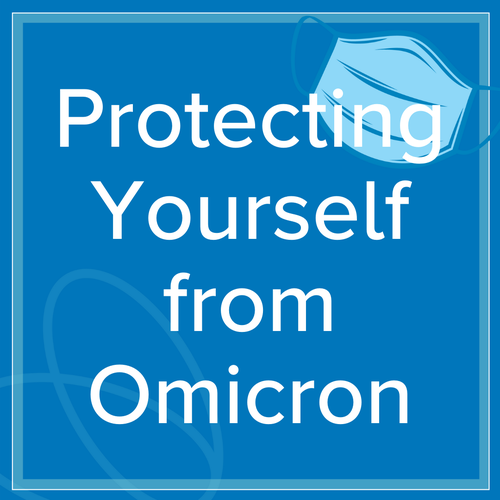 With cases of the Omicron variant surging, many people want to know how to protect themselves from getting COVID-19. The tips below can help keep you safe.
Get Vaccinated
Not surprisingly, vaccines are still the best public health tool to protect people from COVID-19. Vaccines also slow transmission and reduce the likelihood of new variants emerging. COVID-19 vaccines are highly effective at preventing severe illness, hospitalizations, and death. Ask your doctor if you have questions about the vaccine.
• CDC recommends that everyone 5 years and older protect themselves from COVID-19 by getting fully vaccinated. In addition, CDC also recommends that everyone ages 16 years and older get a booster shot after completing their primary COVID-19 vaccination series.
• You are eligible for a booster at 5 months after completing Pfizer-BioNTech primary series, 6 months after completing Moderna primary series, and 2 months after the initial J&J/Janssen vaccine. Young adults aged 16-17 are only eligible for the Pfizer-BioNTech COVID-19 vaccine.
Wear Your Mask
Masks protect against all variants. CDC provides advice about masks for people who want to learn more about what type of mask is right for them depending on their circumstances. The current CDC recommendation is to wear a mask in public indoor settings in areas of high community transmission, regardless of vaccination status. Wear your mask securely and leave an extra mask or two in your car so you're always prepared.
Get Tested
Testing tells you if you are currently infected with the COVID-19 virus.
• Two types of tests are used to test for COVID-19 infection: Nucleic acid amplification tests (NAATs) and antigen tests. NAAT and antigen tests can only tell you if you have a current infection. Use the COVID-19 Viral Testing Tool, which helps you know which kind of tests to look for: https://www.cdc.gov/coronavirus/2019-ncov/testing/diagnostic-testing.html.
• Self-tests can be done at home or anywhere. They are easy to use and produce quick results. If you have questions about your self-test result, call your doctor. If you test positive, you must isolate for at least 5 days from the date of your positive test (if you do not have symptoms). If you do develop COVID-19 symptoms, isolate for at least 5 days from the date your symptoms began (the date the symptoms started is day 0).
• If you're looking for a COVID-19 test, check local drug stores and pharmacies. You can also search online to find an at home test by searching your favorite retailer. In late January, you'll be able to order a free test kit from a government-based website, which will be dedicated to COVID-19 test distribution. More information will be available in the next few weeks. You might also find this article useful in finding a test: https://www.cnbc.com/2021/12/23/where-to-find-free-covid-tests-including-at-home-while-demand-is-up.html
Practice Healthy Habits
During the pandemic, it's especially important to take care of your health and limit stress. Here are some habits to get you and your family back on track:
• Wash your hands regularly. If soap isn't available, use an alcohol-based sanitizer.
• Avoid shaking hands and touching doorknobs when possible.
• Limit gathering in large crowds. If you spend time with a large group of people, always wear a mask.
• Get enough sleep so that you take care of your health.
• Exercise regularly and stay active as much as possible.
• Eat fresh, whole foods and avoid eating junk or processed foods.
• Get a booster if you haven't already.