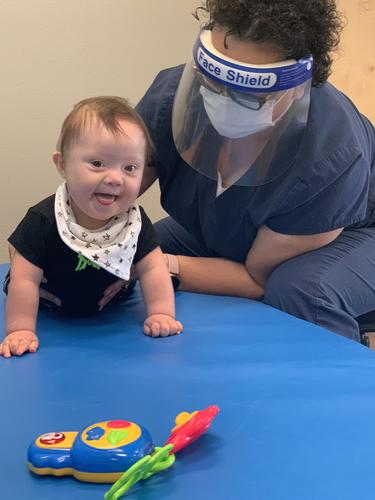 PTA Elisa Lozano has been part of the Aveanna family for 13 years. She is an amazing therapist and has helped countless children gain independence through mobility. Elisa always has a positive attitude and an open heart. She constantly supports not only her patients but her colleagues as well. Her thoughtful, gentle, and engaging therapy approach makes an incredible difference every day.
Elisa's patient Lionel is one of the newest additions to the Aveanna family - this photo was taken at his fourth therapy session! Despite being new to physical therapy, Lionel is making impressive progress. "Lionel is a hard worker and surprises me with his advancements every time I see him," Elisa shares. "He required a lot of assistance when we first worked together. Today, he is able to transition to a crawling position with minimal assistance."
While Lionel works hard at therapy, he enjoys himself and brings joy to everyone who sees him. "He will greet you with the biggest, warmest smile if you ever come by his way," Elisa says. "He has the warmest heart, and it is a joy to work with him."
We're so excited to celebrate Lionel and PTA Elisa's big hearts and successes this October. We can't wait to see what progress they make together next!