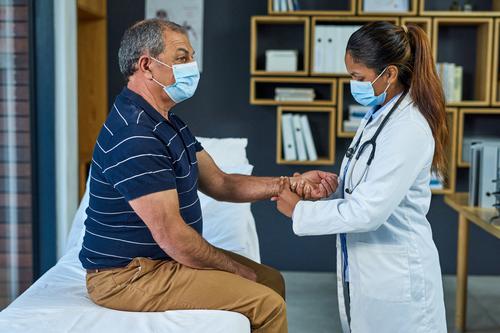 If you need treatment for an illness unrelated to COVID-19, or if you have a preventative health appointment, you might wonder if you can safely visit your doctor's office during the pandemic. Getting proper medical care is an essential, important reason to leave your home during the pandemic – especially if you take the right precautions.
Follow these steps if you have a non-emergency medical need:
Contact your doctor's office if you're experiencing a minor illness, or if you aren't sure whether you need to be seen for a routine appointment. Call your doctor ahead of time, because most medical offices have special processes in place due to the pandemic.

Your doctor's office will provide recommendations for home care, schedule an in-person office visit, or a telemedicine visit.

If you must visit the doctor's office in person, use proper hand washing hygiene, follow social distancing recommendations, and always wear a face covering to help keep you safe.

Remember, an emergency should always be treated as an urgent situation. Visit your local urgent care center, or the emergency room.

If you think you are experiencing COVID-19 symptoms, contact your doctor to find out how and where to get tested.
Source: https://www.cdc.gov/coronavirus/2019-ncov/daily-life-coping/doctor-visits-medicine.html