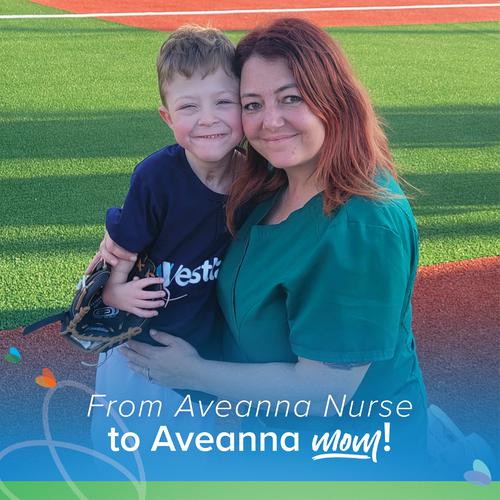 Stephanie was an Aveanna Nurse for 5 years. She loved working with her patients and excelled at providing the expert, compassionate care they needed. Her incredible heart for her patients eventually brought Stephanie to a whole new experience, not in nursing but in motherhood.
"When my husband and I began the adoption process, we sought out medically fragile kids," Stephanie recalls. "They are so often overlooked because most adoptive parents don't feel equipped to care for them. Thanks to my experiences at Aveanna, I didn't have that problem."
After adopting her first medically fragile child, Stephanie went from providing care for other families to welcoming fellow nurses into her own home. She was excited for the change, but it came with challenges. "There's no clocking out as a mom," Stephanie explains. "It was a tough transition in some ways, but it's more than worth it. They are such a joy."
All 9 of Stephanie's children bring her joy, each in their own special way. When it comes to her 2 medically complex sons, she loves witnessing their amazing progress. "The best part of being their mom is getting a front row seat to watch them go further than the physicians said they ever could," Stephanie shares. "They have both come so far and are thriving here at home."
Stephanie's youngest son, Gus, has made rapid progress since joining their family 3 years ago. Thanks to his parents' love, his siblings' encouragement, and his Aveanna nurse's care, Gus is now off his vent, decannulated, and active in preschool and on his baseball team. He still has struggles, but nothing can stop Gus with his nurse and his mom around.
It's not all appointments and medical milestones. Stephanie makes sure her kids are having fun and living life to the fullest. A couple of weeks ago, she set up a water balloon and slip and slide baseball practice in the backyard. She's gearing up now for inclusive, adaptive summer activities for her family once school is out.
Today, we're celebrating thousands of Aveanna moms across the country. Moms who, like Stephanie, love their kids unconditionally, protect them fiercely, and cheer them on every chance they get – whether they're meeting a new health milestone or hitting a home run. Happy Mother's Day to all our Aveanna moms!