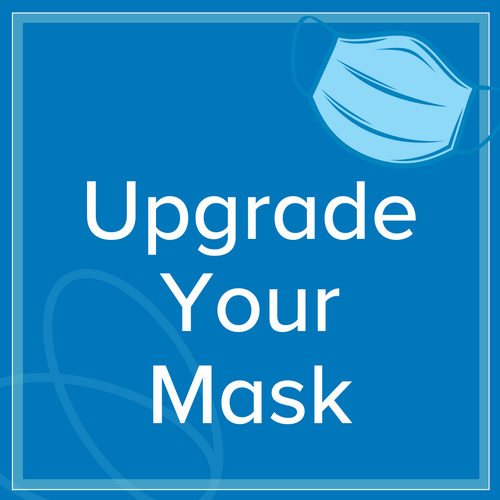 Because the Omicron variant has caused COVID-19 cases to surge again, it's critically important to remember the role of masks in preventing the spread of COVID-19. Many communities are once again making masks a requirement in public to help reduce the number of COVID-19 cases across the country.
The Omicron variant is highly transmissible, so the quality and type of mask that you wear really matters. Experts suggest that you wear an N95, KN95, or KF94 when in indoor settings around other people with unknown vaccination status. Public health experts have also found that cloth masks are not as protective when it comes to the Omicron variant, so consider upgrading your mask to one of the types mentioned above.
If you're having trouble finding an N95 or KN95 mask during the pandemic, here are suggestions on where you can find one of these highly protective masks when they are in high demand: http://www.nytimes.com/wirecutter/reviews/where-to-buy-n95-kn95-masks-online/.
For health care providers, wearing a proper mask is even more important. Health care providers should follow CDC's infection control guidance on masks and personal protective equipment (PPE): https://www.cdc.gov/coronavirus/2019-ncov/hcp/infection-control-recommendations.html.
The Centers for Disease Control & Prevention (CDC) offers the following masking tips to help protect you from the Omicron variant:
Mask "Dos"
Be sure your mask fits snugly against your face. Gaps can let air with respiratory droplets leak in and out around the edges of the mask. Pick a mask with layers to keep your respiratory droplets in and others' out. A mask with layers will stop more respiratory droplets from getting inside your mask or escaping from your mask if you are sick.
Choose a mask with a nose wire. A nose wire is a metal strip along the top of the mask that you'll be able to see or feel. Nose wires prevent air from leaking out of the top of the mask.
After placing your mask on, bend the nose wire over your nose to fit close to your face.
Use a mask fitter or brace over a disposable mask or a cloth mask to prevent air from leaking around the edges of the mask.
Check that your mask fits snugly over your nose, mouth, and chin. Check for gaps by cupping your hands around the outside edges of the mask. Make sure no air is flowing from the area near your eyes or from the sides of the mask. If the mask fits properly, you'll feel warm air come through the front of the mask and may be able to see the mask material move in and out with each breath.
Wear a cloth mask over a surgical mask to improve the fit. The cloth mask should push the edges of the disposable mask against your face.
Make sure you can see and breathe easily.
Knot and tuck ear loops of a 3-ply mask where they join the edge of the mask. Fold and tuck the unneeded material under the edges. For easy-to-follow instructions, watch this mask "Knot and Tuck" technique video: https://youtu.be/GzTAZDsNBe0external
Mask "Don'ts"
Do NOT combine two disposable masks. Disposable masks are not designed to fit tightly and wearing more than one will not improve the fit.
Do not combine a KN95 mask with any other type of mask. Only use one KN95 mask at a time.