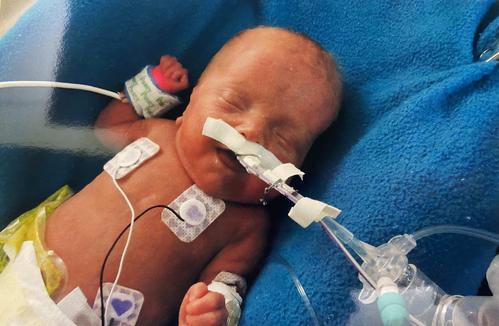 "Zeke was feisty from the beginning," his mom recalls. "He fought so hard and had to overcome so many hurdles. He's a fighter."
Zeke was born at 23 weeks gestation weighing 1 pound 4 ounces. In the third week of his life, he was diagnosed with necrotizing enterocolitis. He had to endure three surgeries in just one week. After surviving all of that, Zeke faced even more setbacks. Capillary leak syndrome, pneumonia, pulmonary hypertension, bronchopulmonary dysplasia, and hypothyroidism – some days the challenges seemed endless.
It's safe to say Zeke has had his fair share of difficulties. But he always keeps going. He overcame impossible odds and turned one year old this May. Our team was honored to start private duty nursing care for Zeke just in time for his first birthday! And we couldn't have asked for a better nurse to help Zeke fight his battles at home than Nurse Jessica.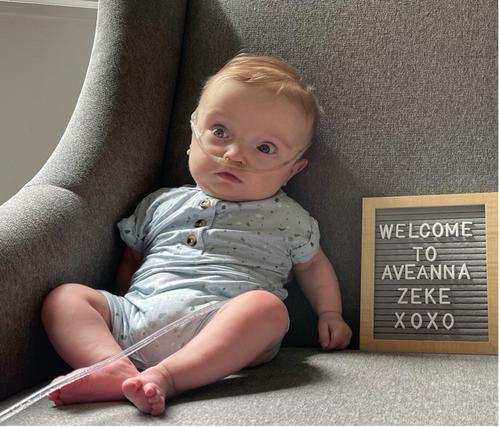 "I was nervous at first to go back to work and leave our child at home with a nurse," Zeke's mom admits. "My son had just fought for his life, and I didn't know her! But Jessica quickly caught on to his needs and all the little things that are unique to Zeke. She has great communication and is always so supportive. She puts us at ease. I feel so confident leaving Zeke with Jessica now. He's getting exceptional care – the best care."
Jessica quickly became an integral part of Zeke's care team. Her work with him has made a phenomenal difference and allowed Zeke to develop in ways that had previously seemed impossible. "As Zeke is growing, we're so grateful to have Jessica as an expert watching over him," his mom notes. "Jessica gets on the floor to do therapy with him. She administers his meds, treatments, and feeds. She keeps him healthy at home.
"It's been almost miraculous to see his progress," Zeke's mom says. "It's all because of Jessica's consistent care. Zeke is putting in hard work, but so much of his development is thanks to Jessica. I just look at him and can't believe he's alive and thriving like this. We're so thankful."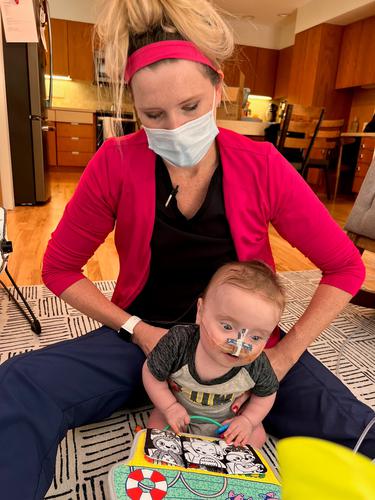 Zeke's family is thankful to have Jessica, and she loves being part of their lives as well. "Working with Zeke has been such a blessing for me," Jessica shares. "Honestly, I never planned to work as a private duty nurse. But the hospital didn't suit my lifestyle. I became a home health care nurse because it fit my schedule and my family's needs. Then I fell in love with my patients. I would tell other nurses considering a change – Give private duty nursing a try! You'll never go back."
Zeke's mom also wishes more nurses would give one-on-one private duty nursing a try. "When you work in the home with a patient," she explains, "you are in control and part of the care plan in a unique way. You have the ability to really connect with the patient and the family. You are a main contributor to their growth. When something goes well with Zeke, it's thanks to Jessica. She gets to see firsthand the results of her care."
If you'd like work one-on-one with little fighters like Zeke, helping them thrive at home while enjoying flexible scheduling and meaningful work, apply to become an Aveanna Nurse today at jobs.aveanna.com