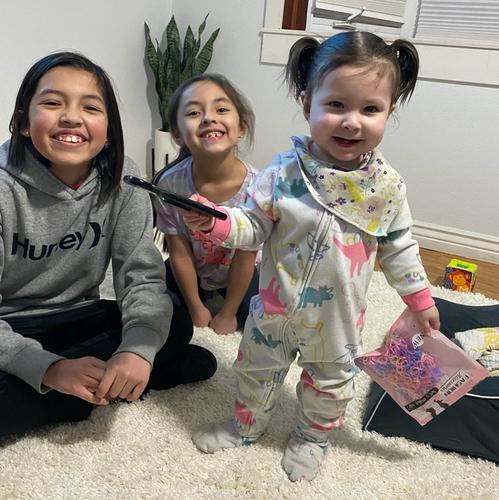 Melia was born with a rare genetic disorder called epidermolysis bullosa, which causes frequent blistering of the skin. Melia's skin may be fragile, but she certainly isn't! She's an independent fighter through and through. But even the strongest fighters need a little help every now and then. Melia's feeding tube is one of the tools that keeps her healthy and thriving.
"Melia's condition causes blisters all over her skin, but she also blisters internally," her mom, Heather, shares. "A few months ago, she got a blister in her esophagus and stopped eating. Since then, Melia has been relying on her G-tube for all of her nutrition for the first time in her life."
Melia's feeding tube made a stressful time much less daunting for her family. "This is exactly the scenario I imagined when the doctors first suggested that Melia get a G-tube," Heather recalls. "I knew my daughter might not be able to eat by mouth for days, weeks, or even months at a time because of a blister. Her G-tube is doing exactly what it's meant to do."
Thanks to her feeding tube, Melia gets all the nutrients she needs, and her parents don't have to worry about getting her to eat when it's painful. "I hope Melia will eat by mouth again at some point," Heather admits. "I loved seeing her smile when she ate her favorite food (peanut butter), and I miss that. But I don't want her to associate food with pain. It's comforting to know that she can wait and eat again when she's ready."
In spite of the challenges that Melia's diagnosis has presented over the last year, she has continued to grow and meet new milestones with help from her feeding tube. She's walking, talking, and even wrestling with her big sisters. Melia's family and Aveanna Nurse Nancy have been so excited to see the progress she's made and can't wait to see what else she accomplishes this year. And neither can we!
To see how far Melia has come in the last year, visit https://www.aveanna.com/blog/article/the-beauty-of-melias-feeding-tube/
If you're interested in becoming an Aveanna nurse and caring for patients like Melia, check out our openings in your area at https://jobs.aveanna.com/jobs/nursing/